This is a great story by my friend Gary Hoover.  I loved reading the history of industrial design and how one man Raymond Lowery influenced the world of industrial design
The Unsung Story of the Greatest Industrial Designer
By Gary Hoover
This article 
first appeared
 in the Archbridge Institute's 
American Originals Series.
Outside of the field of product and transportation design, too few people know who Raymond Loewy was. The best-known industrial designer, founder of the industrial design profession, and member of the pantheon of our greatest designers, it is time for wider recognition of this amazing man. Coming to the United States from France in 1919 at the age of twenty-five with $40 in his pocket, Loewy brought with him a love of trains, cars, and good design, but he soon also developed a love of America. He was featured in Fortune and Life magazines and made the cover of Time. Forty years ago, he was engagingly interviewed on TV's 60 Minutes. Called "the frog" and "a refrigerator designer" by leaders of the auto industry, he created some of the most visionary automobiles in American history. He trained and developed dozens of other top designers. Today we see his work every time we see Air Force One, the Shell Oil or Exxon logos, or the Greyhound dog on a bus. Over his sixty-year career, he reshaped the world as we know it. This is his story.
Beginnings
Born in Paris on November 5, 1893, Raymond Loewy was middle class and educated, the son of a Jewish father and Catholic mother. His father's job as a business journalist introduced Raymond to writing and world affairs. As a teen, he published a newspaper for his neighborhood—the first sign of his entrepreneurial bent. The boy soon showed a love of art, constantly drawing locomotives and automobiles. His mother took him to railroad roundhouses to watch the action, which he loved. At fifteen, he patented his design of a model airplane. Developing skill at selling his ideas and making presentations, he started a company to sell the planes, but soon sold it. He built speedboat models that won acclaim. And he earned a degree in engineering at the University of Paris.
Then World War I came to Europe. Loewy served four years and two months on the front, earning decorations for combat bravery three times. By the war's end, both his parents had died of the Spanish flu, which killed millions. They left little inheritance. His two older brothers had moved to the United States and become successful in banking and medicine. In 1919, he followed them, sailing to New York on the SS France with one set of clothes—his army uniform—and $40 that his brother had loaned him. As he crossed the Atlantic, he drew sketches of parts of the ship and of other passengers.
The American
Loewy hoped to apply his education and get a job as an electrical engineer at General Electric. Meeting his brothers' friends, he was introduced to the head of Macy's. He accepted a job to dress one of Macy's main store windows. Rather than the ornate, cluttered look then in vogue, he used just one mannequin, one spotlight, and a mink stole at the foot of the mannequin. Pure simplicity. When he came to work the next day, he sensed the dismay of his co-workers and resigned before they could fire him.
Loewy's shipboard sketches, however, had drawn the attention of fellow passengers, leading him to meet magazine editors and advertising men. He sensed the opportunity to make money as an independent sketch artist. Soon he was doing work on print advertising for Wanamaker's Department Store, the Butterick Pattern Company, the White Star shipping line, and Pierce-Arrow motorcars. He even designed costumes for the great Broadway showman Flo Ziegfeld.
He used his European roots to his advantage, separating him from the competition. He wrote his brother that, soon after landing, he was getting $75 each for sketches he whipped out in an hour, even while speaking no English. In 1924, Harper's Bazaar magazine became his most lucrative account, and the fashion editor took him under her wing, introducing the thirty-year-old Loewy to New York's elite. He made the most of his new contacts. By 1927, he was designing uniforms for Saks Fifth Avenue's elevator operators and illustrating many of the store's print ads.
Nevertheless, Loewy was "successful . . . but intellectually frustrated," he later told the New York Times. Working with the big department stores, he saw the expanding flow of new products and consumer conveniences as the urban middle class grew. He said, "Prosperity was at its peak, but America was turning out mountains of ugly, sleazy junk. I was offended my adopted country was swamping the world with so much junk." Despite making $30–40,000 per year as an illustrator ($400–600,000 in today's money), he wanted to have a greater impact.
The Industrial Designer
Loewy later wrote, "The country was flooded with refrigerators on spindly legs, and others topped by towering tanks. Typewriters were enormous and sinister looking. Carpet sweepers when stored away took up the greater part of a closet, and telephones looked (this is no pun) disconnected. I felt that the smart manufacturer who would build a well-designed product at a competitive price would have a clear advantage over the rest of the field when things would become tough. . . . Competition would become fierce, good design would help sales, manufacturers could be convinced—and I was the one to do the job, both the designing and the convincing."
So Raymond Loewy "hit the road" with a business card reading, "Between two products equal in price, function and quality, the better looking will outsell the other." Traveling from one manufacturing company to the next in the industrial Midwest, his Frenchness did not provide the "chic" boost that it had in New York. He spent hours in waiting rooms and rode train after train: to Akron, Chicago, Cleveland, Pittsburgh, Toledo, and "points west." Rejection after rejection, he kept calling, kept begging industrial leaders to see his vision of a better-looking world. He said, "No one in the manufacturing world had ever heard of industrial design, and no one was interested. My life was a dreary chain of calls on bored listeners." But Raymond Loewy was not the kind of man to give up on his visions and dreams.
Working with the big ad agency Foote, Cone, and Belding, Loewy was sent to London in 1929 on an account. Sitting in the waiting room of the ad agency, he talked about how London taxis could be better designed. Overhearing the conversation, British and American duplicating machine manufacturer Sigmund Gestetner asked Loewy if he could improve the design of their machines. He said he could do it in three days and would charge $500 if the design was not good; $2,000 if the design was used.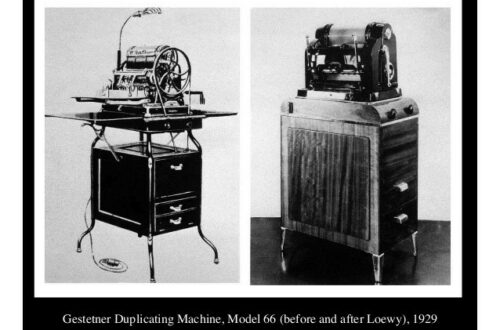 After celebrating with champagne, Loewy ordered a hundred pounds of modeling clay, tools, and a floodlight. Gestetner loved the design, put it into production in the early 1930s, and hired Loewy to do more work. Thus began his career as the most important industrial designer of all time.

Throughout that career, Raymond Loewy believed in beauty in commerce. Never a proponent of "art for art's sake," he said, "The goal of design is to sell. The loveliest curve I know is the sales curve."

As his career evolved, Loewy carefully crafted and developed his image as a European sophisticate. His clothes, homes, and custom-built cars were always striking. He said that "a good life has been as important to me as my work; in fact, the two of them are bound up in each other."

Despite his high income, the stock market crash of 1929–30 put him "$125,000 in the hole," but he soldiered on, always believing in himself.

In 1931, Raymond Loewy married Jean Thompson. While they divorced fourteen years later, Jean remained a friend and key executive at his growing companies.

Raymond always loved cars. He had filed patents on a headlight, a radiator, and two automobile bodies when in the early 1930s he was hired by Hupp to design new Hupmobiles, resulting in the 1932 Spyder and 1934 Sedan, both advanced designs for the era.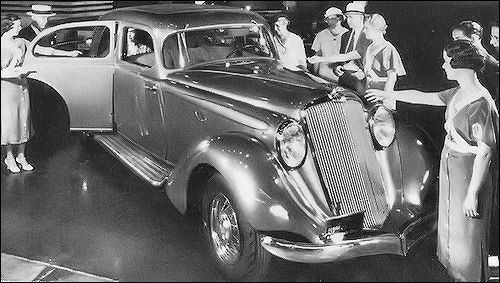 1934 Hupmobile
During that same era, other designers began to share Loewy's visions of better design. Respected competitor Henry Dreyfuss and Walter Dorwin Teague stand out. Visionary designer and author Norman Bel Geddes later drew acclaim for his work on the 1939–40 New York World's Fair. Competitor Henry Dreyfuss had redesigned appliances for Sears, Roebuck, but in 1933 accepted a refrigerator assignment from Sears's competitor General Electric. Unwilling to work for two competitors, he recommended that Sears contact Loewy for their refrigerator redesign. Sears asked Loewy to do a new design for its 1934 Coldspot refrigerator. Again starting with clay modeling, Loewy designed a streamlined model that was easy to clean. He charged Sears $7,500 plus a $25,000 bonus if sales hit high levels (taken together, $600,000 in today's money). Sears also gave the new model six cubic feet of space when the norm was four cubic feet, but the retailer kept the price competitive (Sears always believed in saving the customer money through better features). For the next few years, Loewy continued to work with Sears, adding such features as aluminum shelf racks and crisper drawers. While he believed in timeless design, he also supported continuous improvement. In 1934, Sears sold 30,000 Coldspots and ranked eleventh among refrigerator providers. By 1939, Sears was selling 290,000 per year and ranked second in the industry.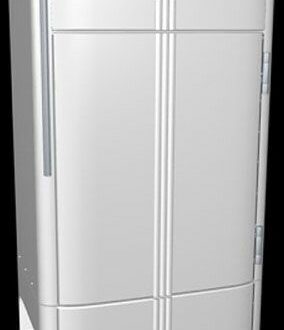 1934 Sears Coldspot Refrigerator
The Sears Coldspot put Loewy on the map, gave him increased visibility, and enabled him to hire his first employee. He had also opened an office on Fifth Avenue. He soon added designers, a business manager, a public relations person, engineers, a model shop, and a clay and plastic modeling department. For an office party, he hired an unknown singer from Hoboken, New Jersey, named Frank Sinatra.

Raymond Loewy, Henry Dreyfuss, and Walter Dorwin Teague can be viewed as the creators of a new industry, the industrial design business. They were as much entrepreneurs as artists.

The Pennsylvania Railroad

Perhaps nothing inspired Raymond Loewy like the wonder of the age: the steam locomotive. He had watched and drawn them since his youth. Through one of his New York society contacts, he got an interview with Martin Clement, the president of the Philadelphia-based Pennsylvania Railroad, the most successful and best-run line in America. Loewy wanted to work for the railroad.

Clement asked, "What did you have in mind?" Loewy's answer came quickly, "A locomotive." Clement responded, "The trash cans in the New York Terminal (Penn Station) are terrible. What can you do with them?"

Most people would have walked out the door at that seeming insult. Not Raymond Loewy. He then spent three days studying the trash cans and how they were used. He charged the railroad $119 for three prototype designs.

Such was the beginning of one of the most important corporate relationships in Loewy's long career. He was soon asked to take a look at the railroad's locomotives. He rode in the cabs, holding a stick out the window with a white ribbon attached to the end to measure the airflow. He added toilets for the engineers. In 1934, he designed the Pennsylvania's GG1 electric locomotive, one of the most beautiful, powerful, and fastest electric locomotives ever built: it could haul a twenty-five-car passenger train at a hundred miles per hour day after day. The GG1 remained in use on the New York to Washington route until 1983.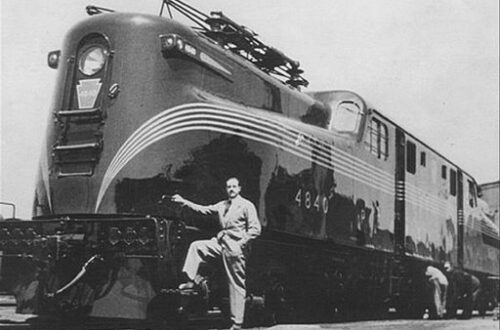 Next, the Pennsylvania asked Loewy to redesign its workhorse locomotive, the K-4 Pacific type. His 1936 streamlining resulted in the engine using three hundred less horsepower to go ninety miles per hour.
As Raymond Loewy's annual retainer from the railroad grew from $20,000 per year to over $100,000 by 1939 (almost $2 million today), he worked on everything imaginable for the company. He said, "In our country, there is always a chance of success for everyone who knows how to do a thing well, delivers it on time, and sticks to his word." Loewy was unafraid to charge what the market would bear. Projects for the railroad included passenger car interiors, menu design, signal towers, a bridge over the Potomac, coffee cups, and even a bronze tablet for a retiring executive. Nothing bored Loewy or escaped his eye. He found the clocks in New York's Pennsylvania Station hard to read and submitted an unrequested proposal to improve them.

The height of Loewy's "power" with the railroad was expressed in the stunning 1939 S-1 locomotive, 140-feet long and weighing over a million pounds. It could pull a fourteen-car train at up to 140 miles per hour with its seven-foot diameter wheels. As a star of the New York World's Fair, it was placed on a treadmill and ran at full speed in front of the thrilled visitors. As he had been since a child, Loewy was always equally thrilled, often traveling to remote locations just to see one of his huge locomotives speed by.
Perhaps Loewy's most beautiful work for the Pennsylvania Railroad was his 1936 design for one of its 342 boats, the ferryboat Princess Anne. Some 260 feet long, the ferry was the largest and fastest of its type, and included a dance floor, snack bar, and restaurant.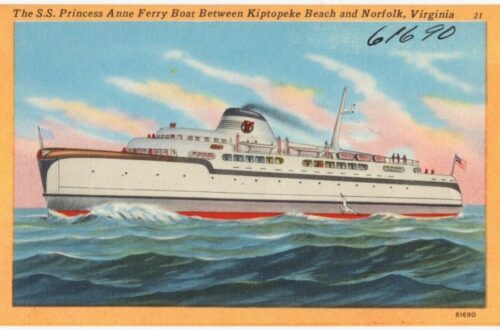 His work for the top railroad led to interior designs for such famous trains as the Burlington Zephyr, the Santa Fe Super Chief, and the Pennsylvania's own New York to Chicago Broadway Limited. Loewy worked with other top designers and at the same time was a competitor. Their efforts resulted in better and better products, as they observed each other's work. For example, Henry Dreyfuss streamlined the "Hudson" locomotives which pulled the competing New York Central's crack Twentieth Century Limited, resulting in another classic of the streamlined train era.